Welcome to the third stakecube.net v3 development report!
In case you missed our last report, please read it here:
https://stakecube.info/scv3-dev-report-2-general/
We will keep this update a little shorter, not going into much detail on the different topics because we want to cover them more extensively in separate dedicated reports. Nevertheless, we are happy to tell you about the progress we made over the last two weeks.
Before we move on to talk about StakeCube v3, let's just mention that DASH mining will be added to MineCube on the current platform version, as we promised in our last report 🙂
Further UI Revision
We are continuously adjusting all interfaces, making them more logical and user-friendly, trying to provide an accurate earnings representation.
Apart from new modules, we entirely redesigned some pages to make all processes as smooth as possible. Our current goal is to achieve the highest possible clarity and transparency for our users.
Here's an example showing the new 'Auto-Reward' mechanism: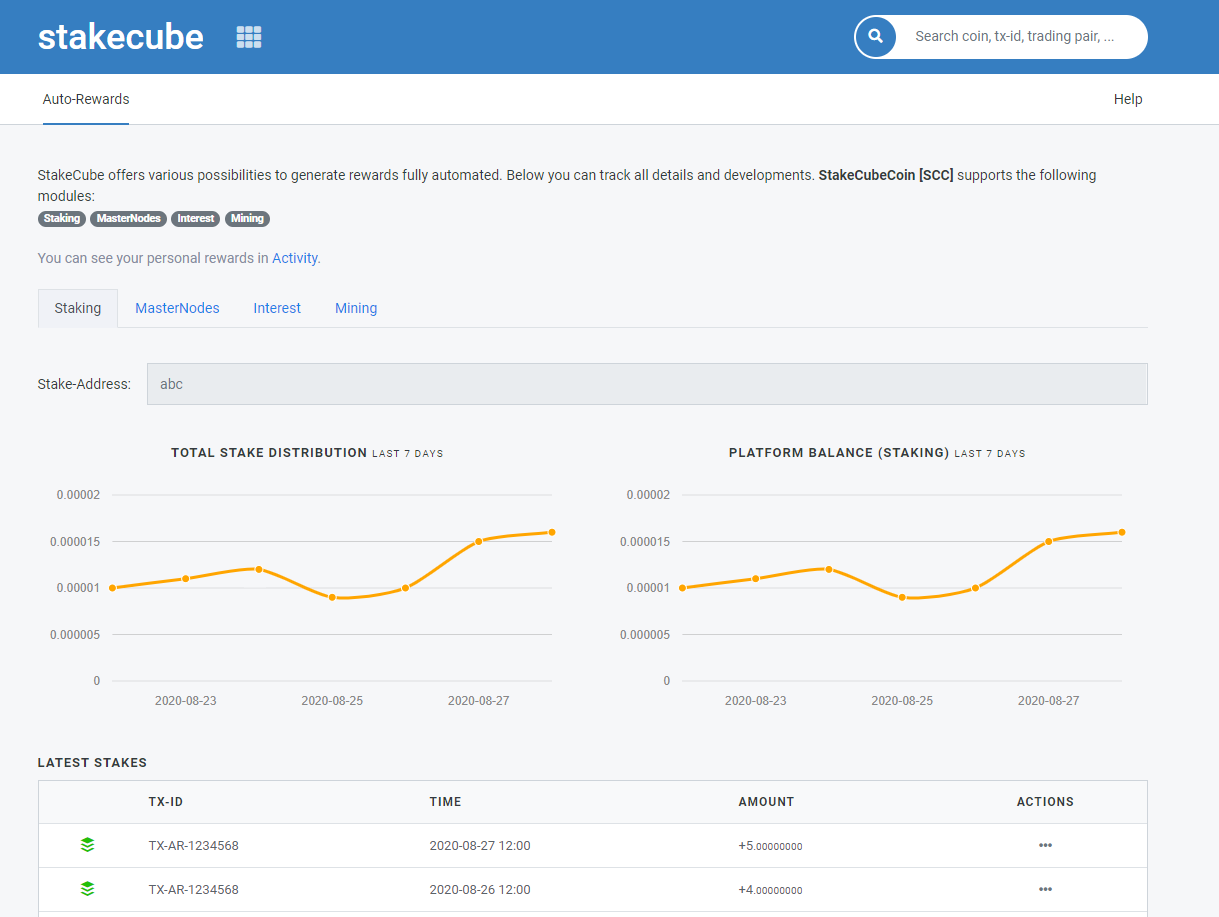 New 'Auto-Rewards' overview per Coin (not real data)
Even though there is still a lot to do, we are ahead of schedule with this.
New Features
We will not go over all upcoming features in this report, however we started to create the API endpoints and user interfaces for a set of new functions; including StakeCube improvements and many functions that were requested by our users.
Starting with simple address books, masternode hosting flat rate and a virtual stablecoin (credit system), you can look forward to some great tools in the future. Our next dev report will focus on these developments.
I would also like to thank again every single user who shared ideas with us to make StakeCube a better platform and ecosystem.
Security
With regards to new features, we are also working on more alarm systems and security mechanisms. The first of them, already implemented, is a transaction input scanner with a blacklisting function that allows us to locate and block all kinds of fraudulent coins. Examples of this are hacked user wallets, coins generated by vulnerabilities, etc. We want to make sure that our platform cannot be used to harm listed projects or users. Furthermore we improved the detection of users with multiple accounts. These are permanently blocked for AML5 violation. As you can see, this tool set is constantly expanding.
StakeCubeCoin
Our testnet keeps running as planned and without problems. Technically, the chain and wallet are almost ready for release. Next week we will be working on things related to the chain (coordination with other providers, internal processes, user tools, etc).
A full report with details and procedures incl. fixed swap date will be published on September 18th.
Meetings
Besides further exchange and service listings for SCC in the pipeline, just waiting for us to complete the swap; we had yesterday a very productive meeting with MeaTec in Frankfurt, Germany. Look forward to more surprises from StakeCube and our partners in the next 6 months 🙂
---
Thank you for reading our report. Learn more about finished and future development steps in our next report, which will be released on September 25th.
EDIT September 27th: SCv3 Dev Report #4 postponed to 9th october due SCC swap.
Happy Weekend!