Welcome to the second stakecube.net v3 development report!
In case you missed the first one, please read it here:
SCv3 Dev Report #1 – Own Explorer and API Based System
As promised in our last article, today we share the achievements and goals for version 3.
StakeCube started as a pure PoS pool in June 2018, but we already had an exact idea where we wanted to be in ~2 years, ~5 years and 10 years+. With every year, we get closer to our goal of becoming the leading and most user-friendly all-in-one Crypto ecosystem. Since day 1 we strongly believe in Bitcoin, Blockchain, StakeCube and that, with our work, we can can make a significant contribution to this space. Of course, we all want and have to earn money as well, and for that Crypto can be our chance to become financially free – in more than one sense.

First stakecube.net v1 interface - "Coin-Cockpit"
About a year later we launched v2 (current version) – basically the basis for the upcoming v3 version: App-based functionality, a more modern core design and a lot of 'tests' for a stable, scalable technical infrastructure in the background and many new functions (Exchange, Mining, MN hosting, …). But the most important factor is the experience we have gained which can be used now to create a better, more complete version.
So, after that bit of background info, let's return to the actual topic:
StakeCube Version 3 – a refurbished platform, the product of experience and expertise combined.
We divide this extensive upgrade into 3 parts:
Company/Administration
Platform
StakeCubeCoin
---
1. Company / Administration
To be completely straightforward, the development of StakeCube has been very bumpy and unorganized in the past. Not as bad as it may sound, but typical for any start-up. With many things being implemented 'on the fly', the small team has to work in a very agile way, with everyone doing a bit of everything. Planned tasks are forgotten, new things get prioritized, time management becomes the most difficult challenge.
Looking at the current meta stats (traffic, Alexa rank, platforms total value, etc.), it gets quite obvious: StakeCube is no longer a small PoS pool. It is time to turn the whole company around and align it with this fact by implementing a new professional organization.
Our management team has put a lot of thought into this, and is working among other things on the following measures in a timely manner:
General
Moving HQ from Germany to a more Crypto-friendly country (new company is currently being registered/established)
Obtaining new, necessary licenses in this country
Organize team and structures
Website
More professional presentation, communication of competence and structure (e.g. as a company). Making available on site:

Terms of service / User agreement
Imprint
Licenses / Certificates
Security Audit(s)
Cooperations

Focus on higher liquidity / less focus on faucet-like functions
Finalize KYC / verification process
Multilingual Website / Support
On-board support
List most of the top 100 coins
SEO improvements
PR
Increase awareness of existing partnerships
Create own content / Social media awareness
Working with serious YouTubers (exact screening regarding rates and quality)
Placing articles into well known Crypto portals
Planned time frame: 6-12 months to complete (PR ongoing)
---
2. Platform
As mentioned in SCv3 Dev Report #1 we have completed the fundamental components for a robust, secure and scalable system.
Now we started to rework the user interfaces, based on the new API based system, to adapt the UI to today's requirements and make it more user-friendly in general.
Important topics like the implementation of already released SCI's / rework of core processes but also many other functions that need a total overhaul/improvement will be revised.
See a sneak peek of the v3 interface (coin overview page – example data):

(You can open the image in a new browser tab and zoom for better quality)
Core design is maintained, but processes and clearer evaluation of personal portfolio developments are mapped. Technical aspects like site speed and fixing small visual bugs (e.g. exchange: 8 digits rounding, order-books update) but also admin tools for better support and new features, including user requests, are covered.
The last function we will release on v2 will be DASH on MineCube in the upcoming days. Everything else will be scheduled for v3.
There will be no "planned", "coming soon" or dead help-links; progress and releases are the target.
Furthermore, we will carry out more systematic project quality control, delisting coins without development and replacing them with stronger projects in regular intervals. First 'round' will start in the next few days.
Planned release: end of 2020
---
3. StakeCubeCoin
$SCC, our own, platform-supporting, decentralized coin, is the heart of StakeCube and for many of us an interesting and very profitable investment.
Following our announcements and GitHub logs, it was obvious to everyone that we had and have to fight against chain attacks on a daily basis. Mempool garbage, double spend (attempts), stake grinding, utxo history-based stake manipulation.
These circumstances make it difficult for us to move forward. Users and third party services have to update often, our tech & support team is forced to work at full capacity, listings on other platforms become expensive.
Let's be honest: we all want to earn money, that's why we invest. Unfortunately, this doesn't work well if we have to dedicate all of our time to minimizing damage and fighting unstable wallets instead of working on innovation and use cases.
Therefore, not only the platform but also our coin needs to be adapted to a professional level to achieve progress, price growth and stability.
After detailed research, background checks and extensive talks with other developers, we decided to undertake a significant step and perform a 1:1 swap to switch from the PIVX to the DASH codebase.
Not only does it possess a great deal of new features (see https://docs.dash.org/en/stable/introduction/features.html) like InstantSend, PrivateSend, ChainLocks, Deterministic MNs, but also their codebase is from our point of view more robust, "battle-tested", less maintenance-intensive and update intervals are significantly slower.
Disclaimer: At this point we would like to clarify, we are not saying that PIVX itself is insecure (since version 4.1) and we are not aware of any current vulnerabilities, but many forks are heavily affected by similar or same attacks, especially without PoS kernel v2. A proper fix is not available (yet), only workarounds to make it harder to exploit the loopholes.
Long story short, StakeCube is currently testing the new chain and wallet. A detailed report about the procedure and changes will be published separately next week.
This is a screenshot from our testnet showing the new DIP3 masternode implementation: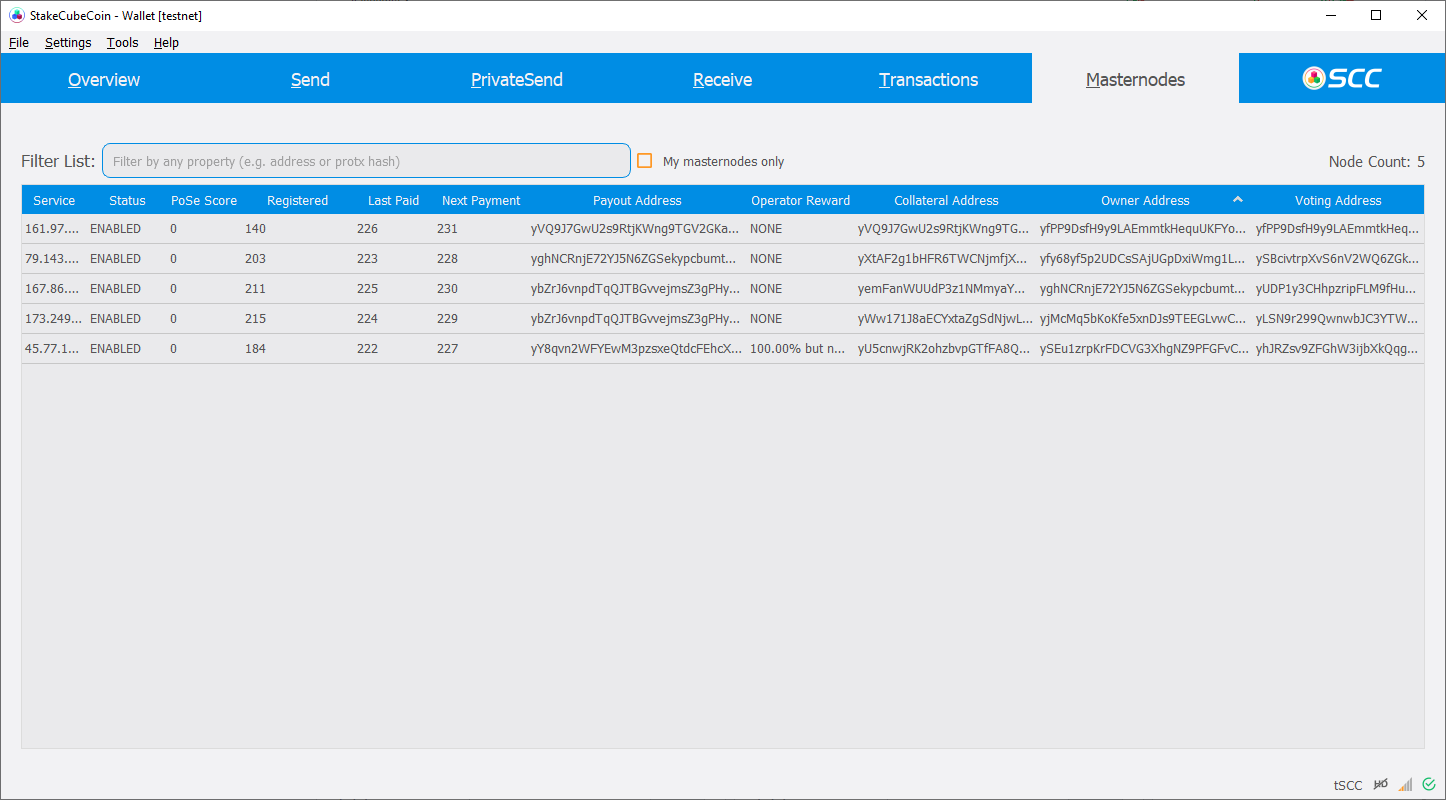 This development will again be very hard work for all of us, but we are happy to go through it together to secure and create a "top 100" level, future-proof investment.
Planned time frame: we expect the swap to take place in September 2020
---
Thank you for reading our report. Learn more about the finished and future development steps in our next report, which will be released on September 11th.