StakeCube in Numbers
The week began with a huge Bitcoin pump that took it back to $55k, fast approaching the all time highs reached back in the spring. While finding the cause of market moves is sometimes a pointless effort, this one in particular might have been prompted by rumors of an American Bitcoin ETF going to be approved this month. This could also explain why most altcoins suffered in Bitcoin terms, even though in dollar terms most of them had a good week. As ever, rising Bitcoin prices contributed to improve slightly MineCube worker profitability. However, mining difficulty has been on the rise since the China exodus of a few months back, diminishing returns and the effect of price increases. As for StakeCube, the exchange lost some trading volume due to the listing of TenUp on other exchanges. SCC showed some growth, maintaining the psychological levels of $1 and $10m market capitalization even in the face of some selling pressure the last few days.
User Count: 123,695

+0.76%

Pool Value: 593.60 BTC -6.70%
Daily BTC Mined: 0.100 BTC

+3.09%

SCC Price: $1.05

+2.94%

SCC Market Cap: $10,029,000

+4.56%

Daily Exchange Volume $209,626 -65.15%
Alexa Rank 19,337 -220
This week's top 1 was MERGE, possibly helped by the success of their Rocketbot service. Strax was the largest coin by market capitalization to get to the top 5. Did you know that Strax is a masternode coin? And it is a huge one, with a value $238,000 at current prices. We have at the moment 1/5 of the collateral for one on StakeCube. Perhaps if more deposits allow it, we could install a masternode in the future. After all, we did the same with Dash and now we host 12 full masternodes!
These were the top 5 gainers for this week:
Top 5 Gainers
MERGE

+154.5%

ESBC

+62.1%

ONION

+53.6%

PNY

+38.1%

STRAX

+26.7%
StakeCube into the Metaverse
We are proud to announce that StakeCube has made its first external investment as a company. We have chosen to participate in a closed seed round for an upcoming "metaverse" project. Company investments of this sort are important to expand our brand, contributing to increase our network of partners and business relationships. This in turn should help us market our own products, particularly after the releases planned for the near future. The metaverse is a very hot topic these days, and we are very excited to play a part in it.
At the moment we cannot share all details, but in the coming days we will update you with more information regarding this deal.
MineCube News
This week we reached 3,000 MineCube users, and celebrated it by giving away 125 workers to 125 lucky winners. The winners were selected among those that already had bought workers before. Be sure to check if you won the prize and have a new worker giving you some extra Sats everyday!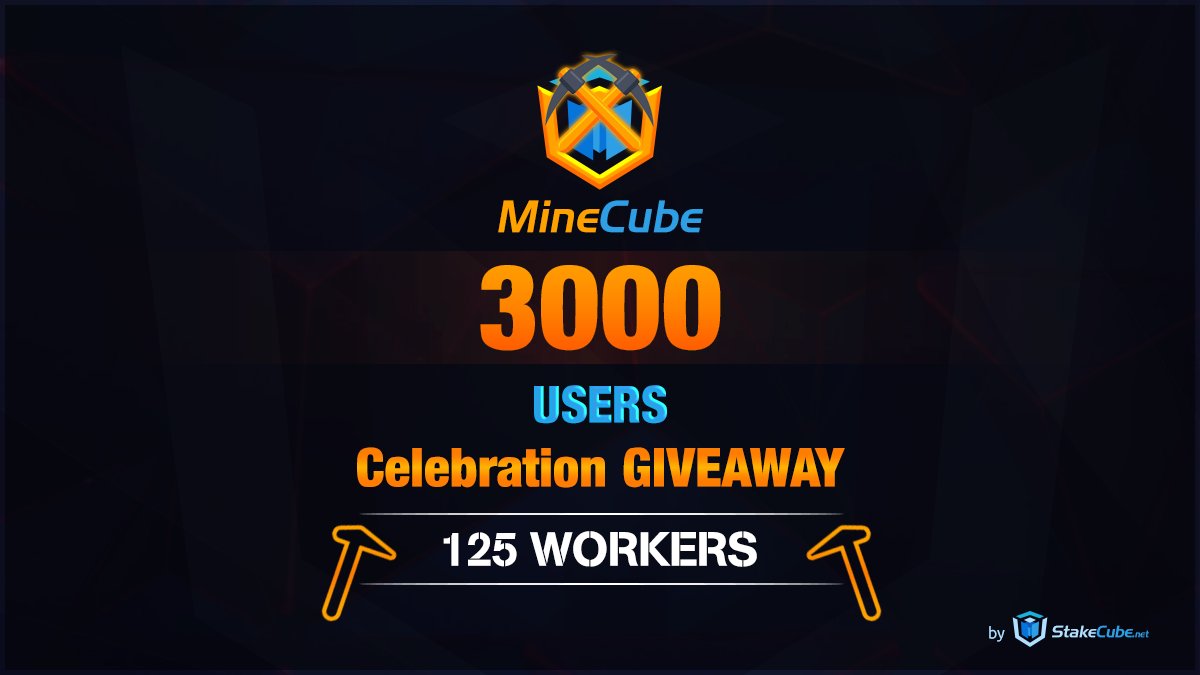 https://twitter.com/stakecube/status/144565
These are some other statistics for MineCube as of today:
347 users with at least 100% recovered
165 average workers per user
Highest recovery rate: 118.0%
$1.99 million worth of workers sold
Still slightly short of $2 million but we will surely reach it next week.
Meatec Maintenance
As announced by Meatec, there will be a maintenance planned for the days between the 8th and 10th of October:
https://twitter.com/MeatecM/status/1446068122713210881?s=20
As the maintenance affects the dashboard but not the miners, it should not affect payout amounts. However, payouts may be delayed until the maintenance is over.
SLP Listing
This week we listed SLP (Smooth Love Potion). You can already buy it or sell it on the exchange:
https://stakecube.net/app/exchange/slp_btc
These are the potions that users can use and earn on Axieinfinity. Now that the listing is complete, we will be able to credit our scholarship participants their share of earnings in the game. SLP is an ERC20 token on the Ethereum network. We don't support Ronin yet, but might do it in the future.
Please note that SLP has no decimal places on the smart contract. You can still trade for decimal parts of an SLP, but only rounded amounts will be possible to withdraw.
Wrong Deposit Addresses
We keep getting tickets from users that deposited to the wrong address and lost their funds. In some cases the amounts are pretty large, with more than $10k worth of cryptocurrency lost. Please remember to always verify that you're depositing your coins to the correct address. The correct address will always appear after clicking on the deposit button of the wallet of the coin you want to deposit to.
We would also like to remind you that charging a recovery fee for the cases where it is possible to recover the coins is an industry standard. This week Sam Bankman-Fried, the CEO of FTX, tweeted about exactly this issue:
https://twitter.com/SBF_FTX/status/1445814621097451529
StakeCube Swap Feature is Back!
Some months ago we were offering the possibility to swap coins directly using the services of Changenow.io through our site. We have now recovered these services and added them to StakeCube.info so that they can still be used. You will find the swap feature on the right side of the screen here:
If you want to know how it works, you can consult the guide we wrote for it at the time:
https://stakecube.info/faq-how-to-use-the-swap-feature-on-stakecube/
For the moment, the guide is outdated, but everything other than the location of the Swap feature should be the same.
SCC "Halving" Approaching
SCC is fast approaching its next phase of coin issuance that will reward 8 SCC per block. 5.6 of these will go to masternode owners while 2.4 will go to miners. This is a reduction of 11% with respect to the current 9 SCC per block. The change will happen in approximately 8,000 blocks, which should be around 11 days at the target block time of 2 minutes per block. You can consult the reward structure here:
https://stakecube.net/stakecubecoin#monitoring
As coin issuance will be reduced, there will be less sell pressure on the markets. This can have a positive effect on prices, as shown by the famous Stock to Flow model.
Development News
SCP Wallet
NFTs and Collections (SCP-4) are now fully implemented into the SCP Lightwallet servers and client. This means that NFTs are now officially LIVE on SCP Mainnet!
Here's some of the features contained within v1.1.6:
NFTs and Collections (SCP-4):

NFTs with pure IPFS-based imagery and customizable economics.

SCP Token code-less creator:

You can now design and launch your own tokens in just a few clicks.

Sync Assist:

Full-nodes now resync over twice as fast with a new, tiny, powerful and automatic snapshot file.
Community testing has opened up for the first release candidate of SCP Wallet v1.1.6. If you'd like to participate in testing, refining and launching the wallet, please join our community of testers on Discord:
However, please be aware that these are pre-releases and not guaranteed to be stable. They do not represent the final product of SCP Wallet v1.1.6.
StakeCube.net NFT Market
Together with the developments regarding NFTs on SCP, we'd like to offer you a place to trade your NFTs on StakeCube.net. It is our intention that StakeCube the platform and StakeCube Protocol are fully integrated. For this purpose, we're developing an NFT market that will be released in the coming weeks.
NFTs are coming in a big way to StakeCube, so if you're an artist, or a collector, prepare your best pieces and/or your wallet and don't forget to follow the official Twitter account of StakeCube Protocol:
https://twitter.com/SC_Protocol
Also take a look at these early screenshots produced by the developers of the marketplace:
Wallet Maintenance News
Wallet Updates
No wallet updates were necessary this week.
Security Notice
Please read the following information regarding the security of your account and funds:
The StakeCube.net team will:
Never contact you first
Never ask you to send them or move coins to some other address
Never ask you for remote access or to install any third party software
Never ask you for your password or 2FA codes
Never provide support using direct messages
If you observe any of these listed behaviors, someone is trying to steal money from you. This applies to all of our social media channels. Our team will post official messages in the appropriate channels, and we only offer support through our ticket system on Discord.
Please, also take into account the following measures to keep your account secure:
Enable 2FA in the account settings
Enable IP verification in the account settings
Use a strong password
Change the password regularly
Never share your password with others
Never allow remote access to your devices
If you require assistance, use only the official channels
Download software only from verified sources
SCP Wallet is now signed with JSKitty's public PGP key. This allows users to verify that the wallet has been cryptographically signed and approved by him. Even if our GitHub is compromised, the downloads are still safe as long as the PGP verification confirms that the files have not been tampered with. If you download SCP, please verify the binary against our developer's public key: