General News
StakeCube in Numbers
This has been a week of tremendous growth for StakeCube, with more than 3500 new users joining the platform. Many of them came from the TUP community, as we are not just their main exchange but also with us they can participate in pooled staking and masternodes. Mining profitability also experienced a huge increase, thanks to the sinking mining difficulty. However, this was just the beginning. Later today, mining difficulty is expected to fall by as much as 25%; the biggest decrease in the entire history of Bitcoin. This is also the maximum fall the Bitcoin network can allow to happen with one adjustment. Needless to say, this will increase profitability again, provided Bitcoin prices hold this level.
User Count: 101,359

+3.44%

Pool Value: 603.6 BTC

+3.50%

Daily BTC Mined: 0.126 BTC

+34.04%

SCC Price: $0.84 -2.33%
SCC Market Cap: $7,632,000 -1.76%
Alexa Rank 14734 -1283
100,000 Users Milestone Reached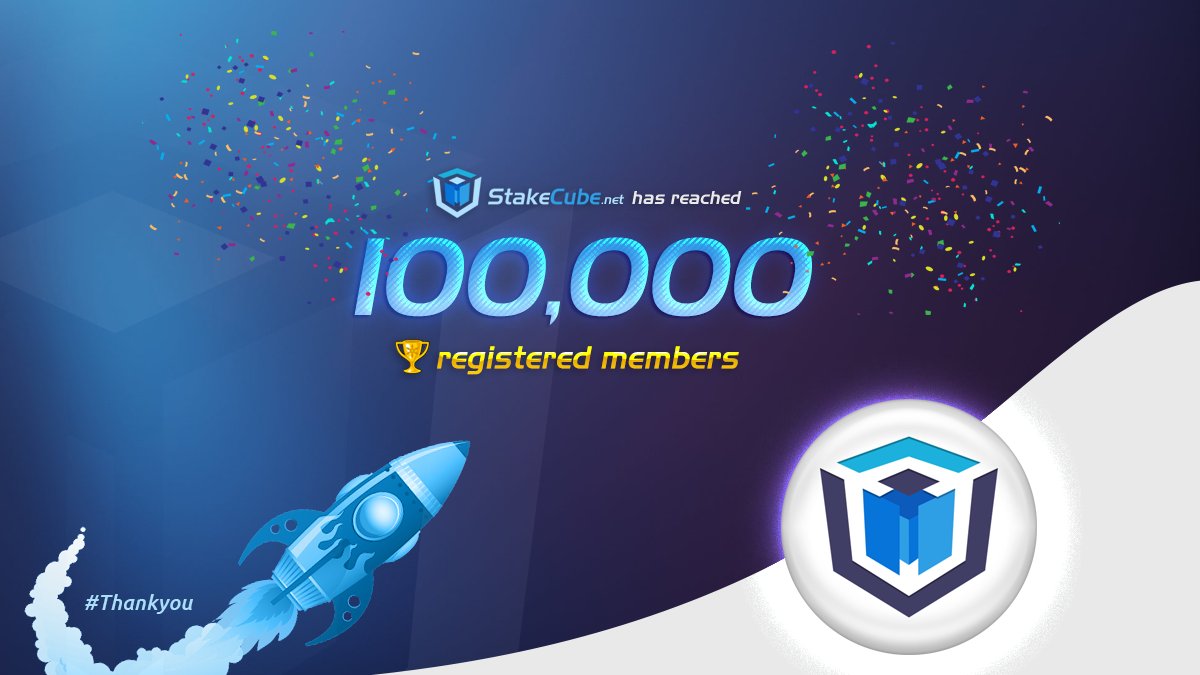 As we mentioned in the previous section, there has been a huge growth in user registration this week that has pushed us over the 100,000 mark. With this we have more than doubled the number of users we had at the beginning of the year. Taking into account that we started StakeCube more than 3 years ago, this statistic shows how much our growth has picked up pace in recent times. But also at the current pace we can expect to double the number of users again in less than a year. This is just the beginning.
Fiat Gateway Partnership
We are finalizing the last steps towards partnership with a fiat gateway provider. We feel that in order to provide greater accessibility to all of StakeCube's services, users need to be able to buy directly with fiat, and be able to withdraw it as well. At the moment we can't share the details of this partnership, but we wanted you to know how we're working to make these possibilities a reality.
Rocket League Tournament
Because of organizational reasons, we have decided to postpone the Rocket League tournament from July the 10th to July the 17th. This should give teams some extra time to sign up, as we would like to have at least 8 teams participating.
The prize pool has been set at $250, so get your teams ready because competition will be fierce!
But the prize pool could be even bigger, as other participants are looking into increasing it. Payment methods have not been determined yet.
If you want to sign up for the tournament, you can do so after joining our dedicated StakeCube gaming server:
Announcements Discord Channel
We have set the #announcements channel on Discord to announcement type channel. Announcement type channels come with a "Follow" button that allows you to automatically post the messages there to other channels or Discord servers. To learn more about this, you can check out the following FAQ:
https://support.discord.com/hc/en-us/articles/360028384531-Channel-Following-FAQ
Vitae Delisting
As we previously informed, we have delisted Vitae and cancelled all exchange orders. As it seems, the Vitae team was involved in some sort of fraudulent activity and we were compelled to delist the coin. You can read more about it through this official link to the story:
https://www.europol.europa.eu/newsroom/news/europol-helps-belgian-and-swiss-authorities-unravel-vitae-ponzi-scheme
All Vitae balances that were not sold or withdrawn from StakeCube before the deadline are considered lost.
MineCube Miners Maintenance
MineCube workers will stop paying rewards until this Sunday due to maintenance and updates scheduled by our mining services provider, Meatec. This was the official announcement on Twitter:
https://twitter.com/MeatecM/status/1410664750141280258
Payments are expected to resume on Monday.
Only BEP-20 and ERC-20 USDT Deposits
Deposits to StakeCube are supported for ERC-20 and BEP-20 based USDT. We feel forced again to remind our users that we do not support any other network for USDT deposits. Users depositing USDT with other standards like TRC20 will lose their funds, as we have no way to recover them.
TRBO to MMT Swap
The TRBO swap to MMT has been successfully completed this week. First we stopped deposits of TRBO, as well as stakes, masternode rewards and trading. Then all orders from the exchange were cancelled and all balances returned to the user.
Once this process was done, we listed MMT and airdropped users 1 MMT for every 1000 TRBO held. Then, TRBO balances were deleted from users that already received the swap. You can already trade your MMT on the newly added BTC and SCC markets:
https://stakecube.net/app/exchange/mmt_btc
https://stakecube.net/app/exchange/mmt_scc
All users with their TRBO on StakeCube have had their coins swapped. However, we have opened the TRBO wallet for deposits again. If you missed the previous window, you still have the chance swap your TRBO to MMT until the 15th of July. To do it, deposit TRBO to your StakeCube wallet and visit the following link:
https://stakecube.net/app/swap/trbo-mmt
There you will find the option to swap it for MMT. Please remember that if you miss the deadline, we will not be able to swap your TRBO anymore.
Development News
StakeCube Protocol News
This week we saw many API improvements, parallel to the full StakeCube.net integration. Additionally and as usual, we added a series of improvements to the wallet. The GUI and CLI will have now an update notification system to allow users to swiftly apply new upgrades. We also ditched an additional 5+ dependencies for custom in-house Net+RPC libraries, and improved the "Send" page with a series of minor UX tweaks.
SCP wallet v1.1.4 is entering the final testing phase. We expect a release to be ready shortly.
Bitcoin Deposit Confirmations
Up until now, Bitcoin deposits to StakeCube needed 3 confirmations before they were credited to the user. From now on, deposits will be credited after 1 confirmation, which will reduce waiting time considerably.
BEP-20 Token issues
Some issues were reported when depositing BEP-20 tokens to addresses starting with "0x0″. This resulted in an unusual volume of support tickets that required manual action to credit the deposits. We have now fixed the issue, and all deposits should experience no issues from now on.
Wallet Maintenance News
We updated the following wallets:
PIVX
Previous version: 5.1.0.0
New version: 5.2.0.0
Masternodes had to be restarted after this update.
PIVX
Previous version: 5.2.0.0
New version: 5.2.0.1
Note: This is a new optional patch version release, recommended for Masternodes.
Masternode restarts were not necessary.
BTC2
Previous version: 2.3.1.0
New version: 2.3.1b
Masternode restarts were not necessary.
PAC
Previous version: 0.15.0.2
New version: 0.17.0.3
Masternodes had to be restarted after this update.